Hairdressing price
Auckland
| | |
| --- | --- |
| cut fringe | $10 |
| Haircut kid 5-11years | $20 |
| Teenagers haircut 11-15 years | $40 |
| Haircut female | $75 |
| Haircut male | $45 |
| Blowdry hair | $50 |
| Short hair colour including haircut and blowdry | $170 |
| Long hair colour including haircut and blowdry | $190 |
| Full head foils + toner including haircut and blowdry | $250 |
| Half head foils + toner including haircut and blowdry | $220 |
| Ombre middle length + fashion toner including haircut and blowdry | $260 |
| Ombre long hair + toner including haircut and blowdry | $290 |
| Bleach (just roots) + toner including haircut and blowdry | $220 |
| Bleach all over + toner including haircut and blowdry | $270 |
| Metal detox treatment by L'oreal | $20 |
About me
Hi there,

I'm Vladimir Kupriianov and I'm hairstylists in Auckland. I would like to tell you what makes me different from other hairdressers, but then I realized that it is so hard to write about myself, so I asked one of my customers to help me to introduce myself.
"I heard about Vladimir almost a year before I made a decision to visit him for the first time. His is a very famous hairdresser in Auckland's Russian community due to his professionalism and ability to see woman beauty.
When I got a chance and made a haircut for the first time with Vladimir, there was no doubt he is the best hairdresser I ever saw. It easy to read even by his own style. I like Vladimir for his way of developing a hairstyle for each individual woman. Somehow he finds the right style for you even before you can explain exactly you want.

I think I know his secret: Vladimir loves what he does and he is the big connoisseur of female beauty :)
If you feel doubt about your current hairstyle, then don't hesitate. Just come for a consultation and you will be happy that you got a chance to get acquainted with such a nice professional as Vladimir. "
Wish to find your style,
Marina Ivanova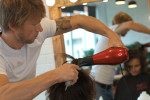 Vladimir Kupriianov
53 Birkenhead Avenue
Birkenhead
,
Auckland
0626
Phone:+64 211 572 621
Price Range: 30-170 NZD
"My dream hairstylist has just landed! Halluluia! No more searching for my personal best haircut! Vladimir has a gift from God! This beauty salon is a collaboration of funky, super trendy, energetic cluster of talented professionals. Very refreshing warm and cozy atmosphere greets you on the arrival. Widely travelled, experienced in European trend setting environment, specializing in natural products for beauty and health available now in Auckland! Must visit!"
"Absolutely first class service! Vladimir Kupriyanov is excellent stylist and I am super happy with the result. Thank you so much for the fantastic job and atmosphere. Highly recommend the salon and Vladimir!!!"
"Vladimir you are amazing!!! The relaxing atmosphere , your professional skills and your treatment made me feel such a special client.I'm so happy for my new still. Thank you😊"
Questions & Answers
Could I come for the consultation before I do a haircut or colour?
Yes, sure you can come for a free consultation. However, I would recommend to make an appointment, such way you will no need to wait when I get free. I have no fee for appointment cancelation, so please feel free to get in touch with me.
What is the difference between Ombre and Shatush hair coloring? How does it work for dark hairs?
Both ombre and shatush are getting popular these days. Both hair colour methods are based on gradient coloring from dark tones of roots to brighter shades to the edges hair. But there are some differences. For example, shatush makes some layers of hair brighter from the middle length to hair tips with next toning to deep shades. As the result, hair gets very rich and deep color with a soft transition from dark to bright. Shatush hair coloring works very well for dark hairs when lightning of hair becomes a challenge.
In opposite to Shatush, Ombre means stronger lightning from the middle length to hair's roots. With Ombre hair gets a more emphatic color evolving which goes from dark to light tone.
What is balayage hair color?
Balayage is another gradient coloring technique. This hair coloring includes the lighting of several top layer strands of hair. The depth of hair coloring may come from very light (like a little sunburn effect) to bright blond shades.
How long does it take to make a haircut and color?
It takes about 2 hours to make haircut, hair coloring and blow dry. Hair highlighting takes a bit longer - up to 3 hours.
I want to increase lasting for cold shades of hair, what would you recommend?
If you have cold shades of hair color, then you may want to try "Silver" shampoo. But keep in mind that "Silver" dries hair and skin, so I do not recommend to use it more than once a week. You also have to be aware that "Silver" works well if your hairs evenly colored in another case you may not enjoy the result. But my personal choice is "Fudge clean blonde" shampoo.
Do I need to wash my head before I come for a haircut and coloring?
In the most cases, there is no need to wash your head before hair coloring. Anyway, feel free to come to our salon as you are. We have all facilities including hair basin, so we could wash the hair here.