Eyebrows & Lashes in Auckland
Angelina Verbnaia
Eyebrows & Lashes
| | |
| --- | --- |
| Brow lamination & shape (no tint) | 60 NZD |
| Brow Xenna tint & shape | 60 NZD |
| SIGNATURE BROWS (brow lamination + hybrid tint + shape) | 90 NZD |
| Inlei lash lift & tint | 90 NZD |
| Bespoke brows (hybrid tint & shape) | 50 NZD |
| Inlei lash lift + signature brows | 175 NZD |
Eyebrows service experience
Every brow treatment includes complimentary 7-10 min brow mask for your skin and hair, to nourish and moisturise the skin and hairs.

The key feature of the service is a brow map that I draw based on the features of your face. You will always have the entire procedure explained to you before proceeding, so you can feel relaxed and comfortable. And last but not least — I work only on proven high-quality brands, so you will not only get the desired result but can also be sure that all solutions are safe.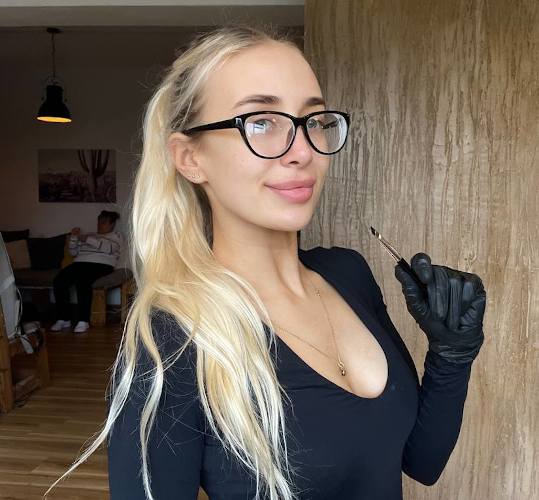 About me
Hi there,

I'm Angelina, the brow and lash artist at BEAUTY HUB NZ.
I started my journey into beauty industry as lash extenaion technician, but quickly discovered my passion for brows.
It is not a secret that brows and lashes impact our facial appearance. Each of person is different, and so there is not same job for me. Fiding perfect brow shape, color and match it with personality of each customers brings excitement into my work.
I consider myself as a perfectionist, who doesn't go for compromise when it comes to my work, which always leaves my customers with the ideal result!
Best regards,
Angelina
Questions and Answers
What is bespoke brows?
The bespoke brows service includes a consultation, in which we will discuss your brow goals, brow mapping the shape that are suitable for your facial features, which will allow you to see how the eyebrows will look before tinting.
The color and type of tint is selected based on your desires (and my suggestions) in order to avoid too dark / light eyebrows. Every step is discussed with you, so you can relax during the procedure and be sure that you will be satisfied with the result.


How long does hybrid tint lasts?
In my work I use Bronsun hybrid tint. Bronsun is the first gel dye with henna effect. Highly pigmented dye tints both hairs and skin, providing a graphic and intense result that lasts up to 7 days on skin (most of the time it depends on your skin type) and up to 7 weeks on hairs. The ammonia-free formula guarantees a gentle effect on hair structure. 7 bright colors provide an unlimited number of options for creating new shades.


Brow lamination and signature brows - what is the difference?
Brow lamination is a perm for your brows that gives the fuller look. It lasts up to 6-8 weeks. A revolutionary professional treatment intended to make the hair of the eyebrow arch obedient, soft and silky. This treatment includes brow mapping, followed by waxing.

Signature brows includes brow lamination, hybrid tint and shape using wax and tweezers. Hybrid tint complete the image, leaving an imprint on the skin, giving the eyebrows an amazing snatched look.


Is BrowXenna chemical free?
BrowXenna is an innovative coloring product based on ground henna leaves, a mixture of herbs and organic compounds for lasting brow coloring with the effect of tattooing. Natural ingredients of BrowXenna® take care of damaged and weak hairs, strengthening them more and more with each procedure and restoring the natural shape of the eyebrows. The look becomes more expressive and attractive. This treatment includes brow mapping, followed by waxing.


"I don't like lash extension" - or why Inlei lash lift is a game changer?
A lash lift is semi-permanent procedure that gives you the appearance of fuller, thicker eyelashes without the use of any leave-on chemicals or extensions.
All the way from Italy, Inlei offers the highest quality lash lift products that give natural lashes beautiful curl and nourishment. The only products in the world clinically tested in its effectiveness of thickening of the hair that increases on average by 24% in just three sessions.


How often can I do brow lamination?
I recommend to do brow lamination treatment no more than once every 8 weeks. The desired effect lasts up to 6-8 weeks, so if you repeat the treatment sooner than 8 weeks, you're affecting the eyebrow hairs too much.


Can i do shape with wax if you use retinol?
In that case wax may strip the skin, so i recommend you to stop using Retinoids 3-4 days before waxing process.